La Mondanoj
Ankaŭ havebla en Esperanto.
La Mondanoj was one of the early Esperanto rock groups, active between 1983 and 1987 and based in Berlin. They had a strong reputation as a live act at Esperanto events and in the local Berlin scene, but produced relatively little in the way of recorded output: their officially published work consists solely of the studio recording of one song, Muskola Belulino, which appeared on Vinilkosmo's 1995 Kompil' Vol. 1. The band also produced a number of demo tapes, which were distributed in small quantities, and there was at least one bootleg live recording of the group. The difficulty in obtaining copies of their music has given the band something of a mythical status, and much of the information available about them to date has been incomplete and/or inaccurate. Thanks to significant contributions from the band members, I hope to be able to clarify their history in this post.
The band was a four-piece, consisting of lead singer and rhythm guitarist Aaron Koenig, lead guitarist Tom Wunderlich, bassist Carsten Kindermann and drummer Marcus Wesche. They cited influences including the Beatles, the Rolling Stones, T. Rex and the Velvet Underground.
Koenig, a native of Hamburg, learned Esperanto in the summer of 1983, and used the Pasporta Servo to travel around Europe. After returning home, he went to Berlin to begin his university studies, and shortly afterwards was put in touch with Kindermann by mutual friends. They immediately decided to form a band that would sing in Esperanto, and set to work writing songs.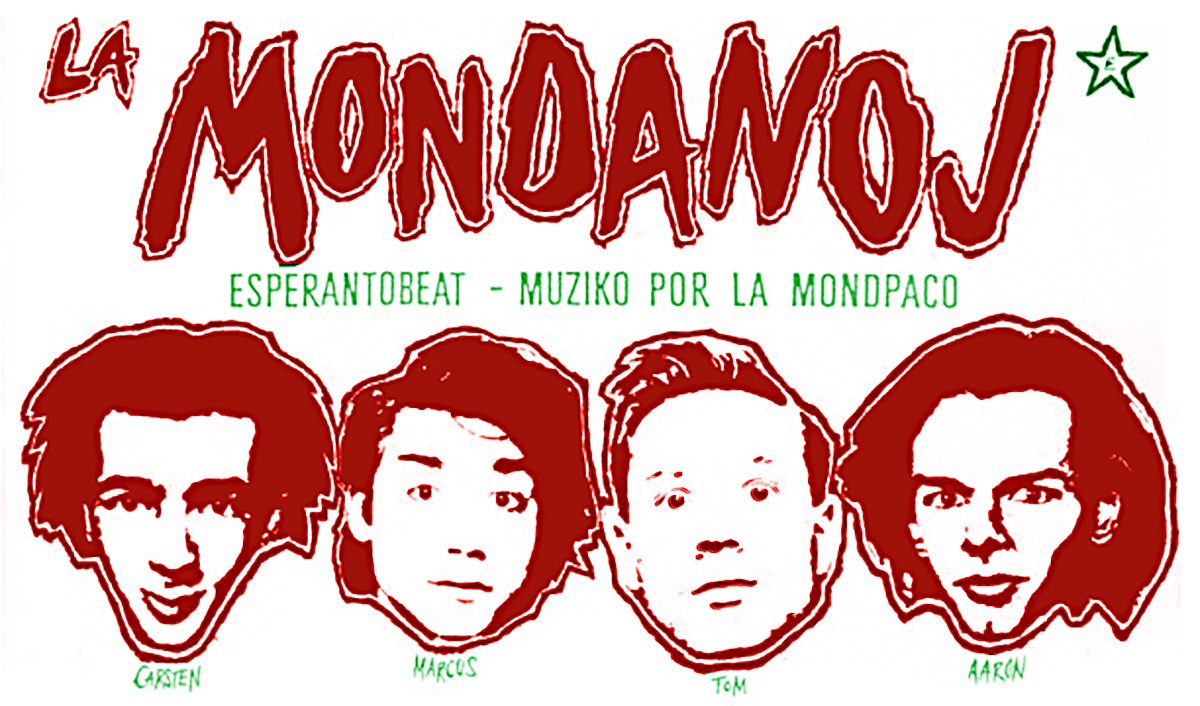 The band's most productive songwriting period was in September 1984, during a holiday to Hungary. Koenig and Kindermann were hosted by Esperanto speakers, and handed out their first demo tapes. Back in Berlin, they auditioned for other band members. Wunderlich, who was a fellow student at the Berlin University of the Arts, was amused by the idea of an Esperanto band and joined as lead guitarist in October 1984, and Wesche, a member of the punk band Schlimme Finger, joined towards the end of the same year. Koenig and Kindermann were both fluent Esperanto speakers; Wunderlich was nearly fluent, and Wesche knew the language only to a basic level.
The band's first concert was at the 1985 Junulara Esperanto-Renkonto in Mezőkövesd, Hungary. The organisers had heard the demo tape that the band had made the previous year and, having enjoyed the music, invited them to perform at the event. A short performance was also arranged at a student rock festival in Budapest, where La Mondanoj played for a non-Esperanto audience.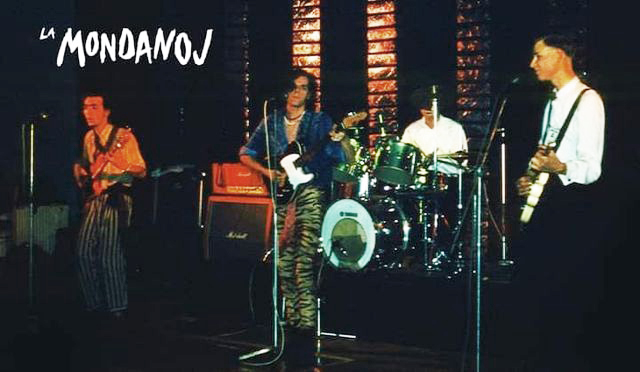 La Mondanoj also played at other Esperanto events in Hungary, Poland, France and Germany, including the 1985 Internacia Junulara Kongreso in Eringerfeld, where they played together with the other mainstay of 80s Esperanto rock, Amplifiki. In contrast to the acrimony felt between many bands in the mainstream rock music scene, Koenig recalls that a very friendly relationship existed between the two bands, who never saw themselves as competing with each other - indeed, at an event in Zagreb, members of both bands played a concert together under the name La Varmigiloj, and on another occasion Aaron and Carsten also played with Amplifiki's two female singers, Aline Boulet and Isabelle Rome, under the name Kvaropo Kabana - although this group never gave any public performances.
László Szilvási, who had arranged the original JER concert, made audio recordings of La Mondanoj's performances, initially intending them only for his own private archive. He later had the idea to compile a live album from the recordings, although the recordings were deemed to be of insufficient quality to justify a commercial release. Instead, he made copies available directly via mail order, advertising them in the 1997 edition of Rok-Gazet'. The tape also included studio recordings of Muskola Belulino and Granda Buterujo, taken from the band's demo tapes.
The now-familiar version of Muskola Belulino was the only professional studio recording made by the band. It was recorded in June 1985, but lay unreleased for a decade before finally being published in 1995's Vinilkosmo Kompil' Vol. 1 This song became one of the most well-known pieces from the compilation, thanks in part to it being released for free online by MusicExpress in the early 2000s. The opening of the song is a direct reference to the similar opening of The Ballroom Blitz by British glam rock band Sweet, and is the origin of the now-ubiquitous phrase "ĉu vi pretas?", later popularised by Dolchamar.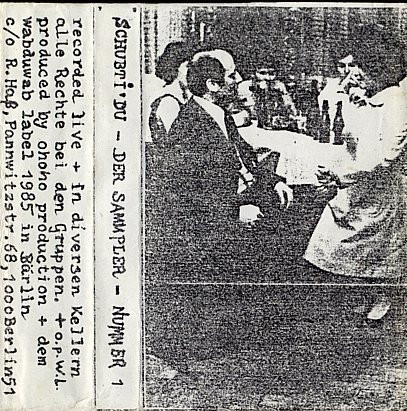 Two Mondanoj tracks — Muskola Belulino and Homoj Bestoj Sensacioj — also appeared on a punk compilation cassette entitled Schubti'Du, issued by Ohoho Production and Wabduwab in Berlin. I've not been able to find any more information about these labels, and Schubti'Du seems to be their only documented release. The compilation does occasionally appear for sale on Discogs, although I've not yet been successful in obtaining a copy. Homoj Bestoj Sensacioj is presumably taken from the band's demo recording, but it would be interesting to know which version of Muskola Belulino is featured - either way, it apparently impressed the compilers so much that they included it as the very first selection on the tape. Three songs from Marcus Wesche's band Schlimme Finger also appear on the compilation.
The majority of La Mondanoj's songs, according to Koenig, consisted of "funny fantasy love stories", with "nothing really serious or autobiographical". A sense of surrealistic humour is certainly prominent in the lyrics, and Koenig insists that while they may appear to be the product of drug usage, none of the band members ever used drugs of any sort - just a moderate amount of good beer and wine!
Interestingly, La Mondanoj seems to have been remembered as a rap group - even though even a cursory listen to any of their recorded output clearly shows that they were a rock or guitar pop band. This seems to have been quite a persistent viewpoint; the earliest mention I can find is a Usenet post from 1998, but as the poster states that they had "read" that La Mondanoj was a rap group, there must be an even earlier source with this misconception somewhere. Indeed, even the Esperanto Wikipedia article about the group described them as a hip-hop group from the initial creation of the article in 2002 right up until Aaron Koenig himself corrected it in June 2023!
The source of this misconception appears to be a concert given in 1987. By this time, La Mondanoj had already split up as a group, but Koenig and Kindermann played at the Internacia Junulara Kongreso in Kraków as a duo, on guitar and bass and backed by a drum machine. For the occasion of the 100-year jubilee of Esperanto, they composed and performed a short rap song, entitled E-S-P-E-R-A-N-T-O. This was the only one of their songs that was about Esperanto itself, and the only one that involved rap - but it seems to have stuck in the collective memory.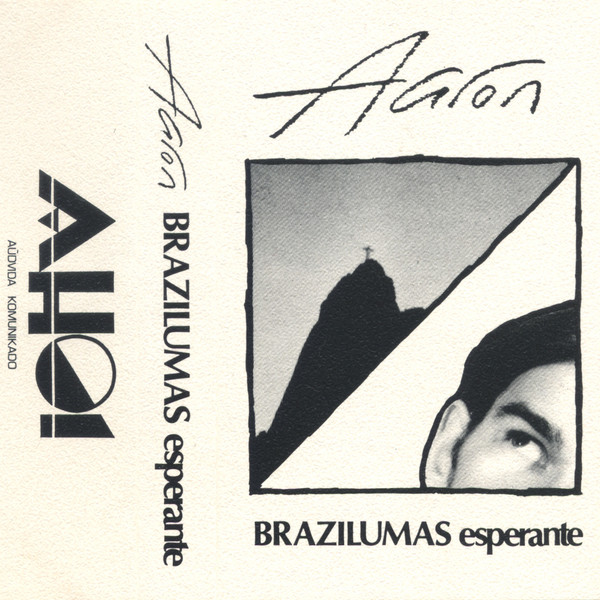 In 1989, Koenig spent a year studying in Rio de Janeiro, where he met the local Esperanto-speaking musician and arranger Flávio Fonseca. The pair decided to record an album of famous Brazilian music in Esperanto translation: Koenig translated the lyrics and sang lead vocals, while Fonseca undertook the musical arrangements, recruited local musicians to play on the album, and produced it to a high professional standard. The album was recorded in Rio between March and May 1989, and was released by AHOI Aŭdvida Komunikado, Koenig's own private label.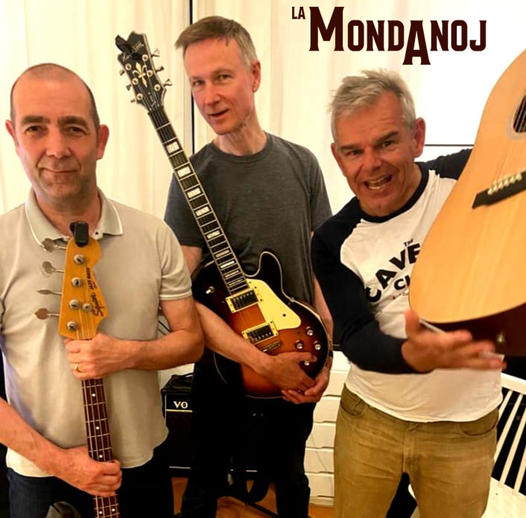 Koenig, Kindermann and Wunderlich remained close friends, and in June 2023 reunited as La Mondanoj. Having unfortunately lost contact with Marcus Wesche, the group currently plays with 25-year-old Niklas Neumann as drummer. The reformed band went into the studio to record new versions of the songs they had played over 35 years previously - although as they had lost all of their original notes and song sheets, they had to reconstruct the songs from memory, and in some cases write new lyrics to the melodies, often simplifying or shortening the songs to fit.
The band has announced that they are rehearsing with the intention of playing concerts and making some new recordings - hopefully it won't be too long before this article will need updating with details of La Mondanoj's latest projects!
Discography
Live Recording
Contributions to Compilations
Aaron Koenig Solo Album
Sources
Acknowledgements
I am very grateful to Carsten Kindermann and Aaron Koenig for providing lots of information about the band and their experiences, and for the photos shared on the band's Facebook page and used with permission. Without their help, this article would have been much shorter and significantly less accurate. Many thanks also to Rikardo Cash for the translation into Esperanto.
---
Comments
Comments are welcome in any language, especially Esperanto.
Komentoj estas bonvenoj en ĉiuj lingvoj, aparte en Esperanto.
comments powered by

Disqus