Team
Team is one of Slovakia's most commercially and critically successful rock bands, with a career spanning over forty years and eleven albums. A complete history of the group was published in book form (in Slovak) in 2012 (TEAM - Príbeh Hudobnej Legendy by Daniel Hevier); so for this article we will focus on their origins and Esperanto activities.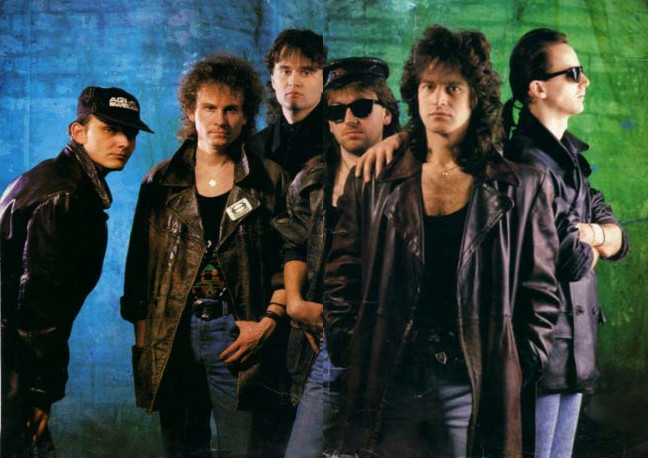 Team (sometimes styled as TEAM and officially pronounced the same as the English word, although in Esperanto contexts often spelled Team' with an apostrophe and pronounced as in Esperanto) was formed in the city of Martin, in what was then Czechoslovakia, in 1980, from the members of three amateur bands: Troll, Electra, and Midd. The three groups used a shared rehearsal room, and a timetable was posted on the door, showing when each group was to use the room. The names of the bands, along with the Slovak "a" ("and") suggested the word TEAM (having the same meaning in Slovak as in English and in many other languages), and when the three original bands split up, the most enthusiastic members decided to work together on a new project - and there was an immediate agreement that the name should be Team. At this time the group was a four-piece: Dušan Antalík, the bandleader, on guitars; Milan Dočekal on keyboards and vocals; Ivan Válek on bass; and Ivan Marček on drums and percussion.
Shortly after forming the band, Antalík decided to take an Esperanto course led by Stanislav (Stano) Marček, a youth activist who organised Esperanto courses and events. He felt that music, like Esperanto, was a sort of international language, and was keen to combine the two ideas. He convinced the whole band, plus two studio technicians, to join him on the course.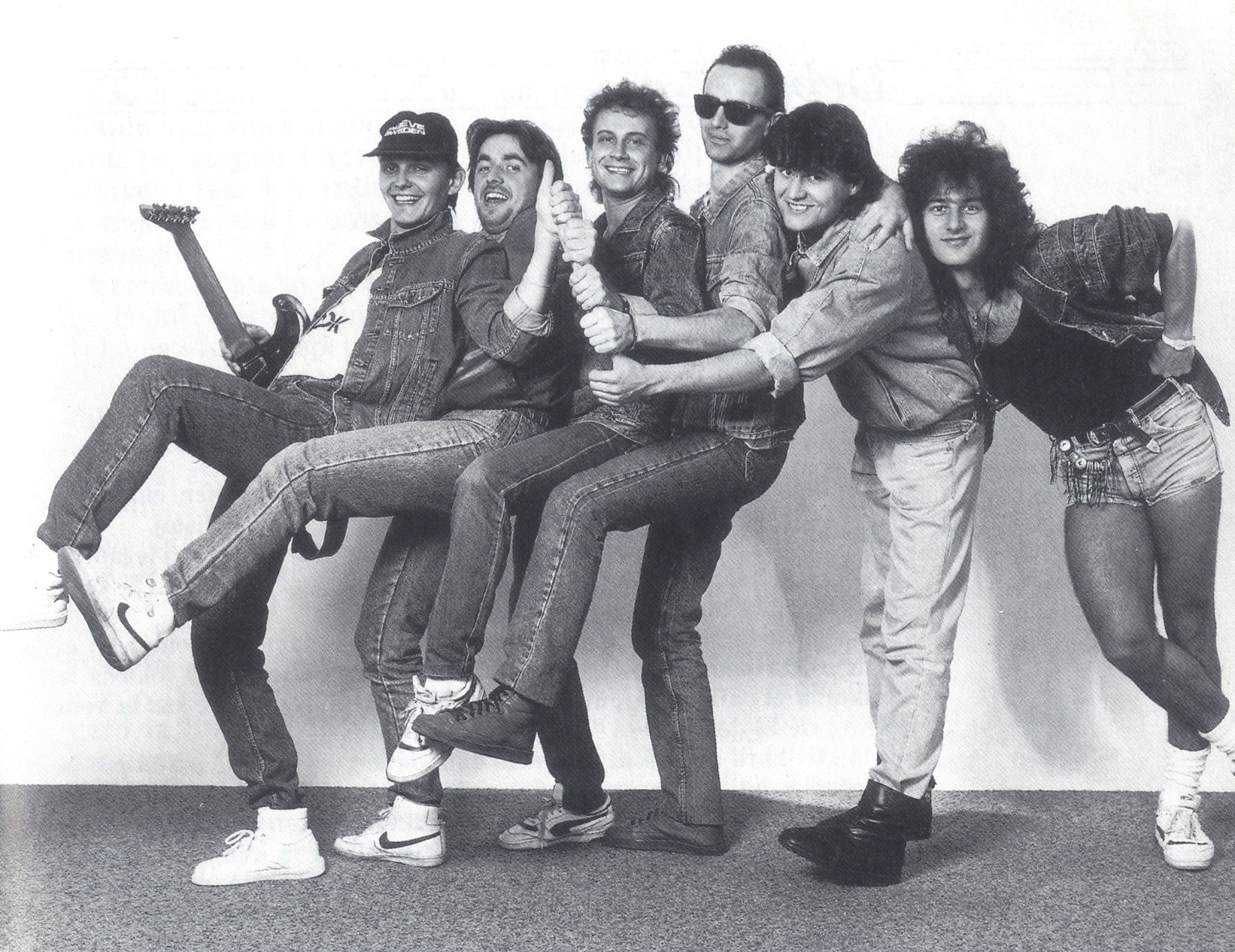 Team's first concert took place in 1982. As this took place at an international Esperanto event in the town of Dolný Kubín, this hour-long concert was entirely in Esperanto. Giorgio Silfer and Perla Martinelli, both of LF-koop, were in attendance, and the idea formed to one day record an album in Esperanto. A partial recording of the concert was released as part of issue 2 of LF-koop's Esperanta Songazeto the following year.
Shortly afterwards the band became temporarily inactive, as the members had to perform compulsory military service for two years, but reformed in 1984 and recorded their first single, Beh ("Run") the following year. In 1986 they were joined by a second keyboard player, Bohuš Kantor, and in 1988 by a new lead vocalist, Pavol Habera.
Team was signed to the Slovakian state-owned record label Opus, and recorded their debut album at the label's digital-equipped studios in Bratislava. Once again the idea of producing an Esperanto album was floated, and it was decided to release the same album in both languages. The Esperanto version was to be a co-production between Opus and LF-koop, and the texts were translated using a two-step process: first Marček translated them word-for-word into Esperanto, and then Silfer and Martinelli adapted them into lyrics that would fit the existing music. New vocal tracks were recorded and mixed with the existing instrumental tracks to produce an Esperanto version of the album.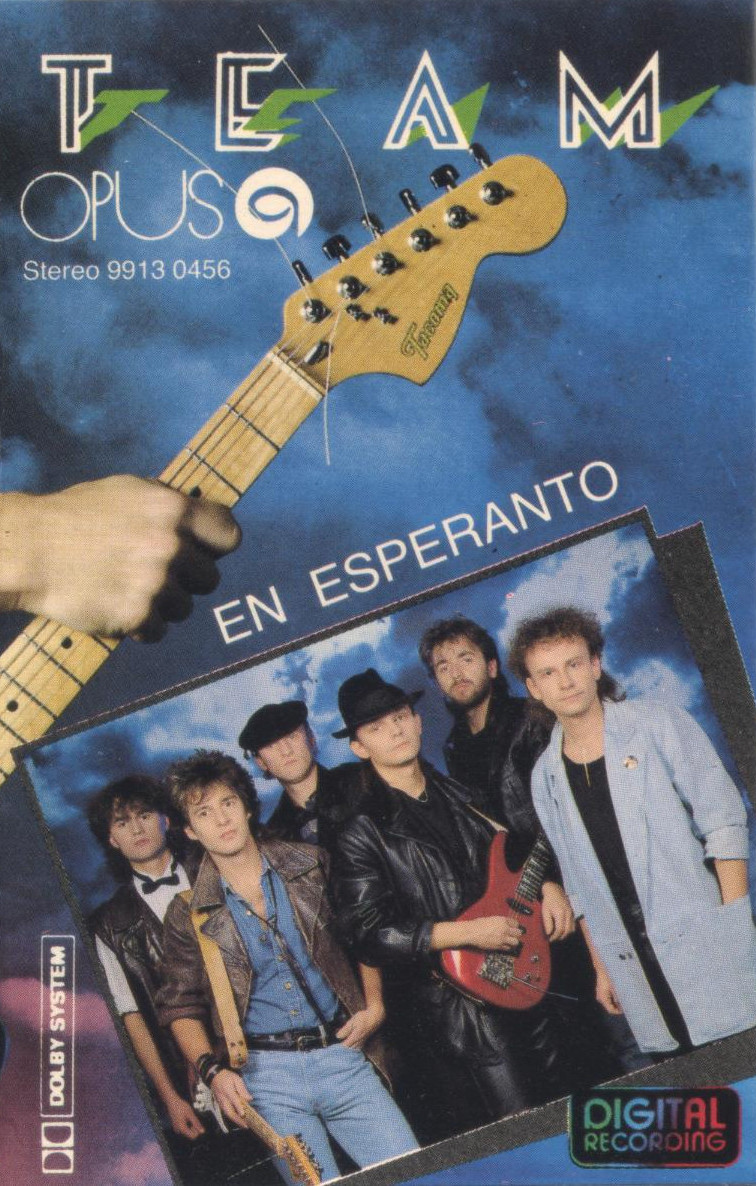 Team described their musical style as "melody rock" - essentially, rock music with a heavy emphasis on keyboards. Because of this, reviewers compared their sound to hair-metal bands such as Europe, although the band was adamant that they had no intention of playing heavy metal. They listed Phil Collins, Sting, Genesis and Def Leppard as influences, and noted that they wanted their music to be enjoyed a broad audience, and so played in a variety of different styles. The lyrics also cover a wide range of subjects: some deal with romance and relationships, some with political satire, and one to do with the feeling of being together with a group today but separated tomorrow - which by the careful inclusion of one or two specific words is transformed in its Esperanto translation into a song about the end of an Esperanto conference. Some of the lyrics are rather poetic and literary - particularly Letero de Vincento, which is about van Gogh, and Via Eta Timo, which must surely be one of very few rock songs to include a metaphor about the smell of chrysanthemums!
The original Slovak version of the album consists of eleven tracks; of these, only ten were produced in Esperanto - the song Nemáš kam íst' ("You have nowhere to go") was left out, and as a consequence Eta Ŝtormo Nokta (originally Malá nočná búrka) was moved from the end of side 1 to its place on side 2, in order to balance the durations of the two sides.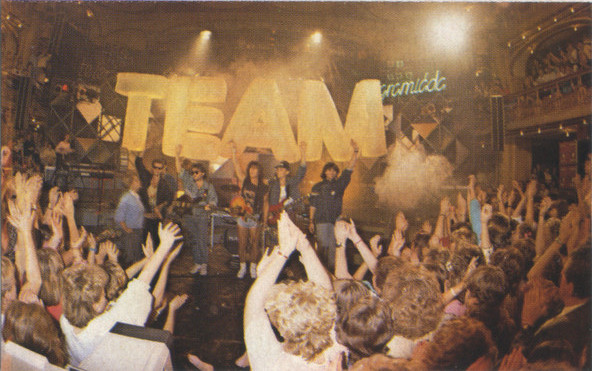 While the Slovak album was released on both vinyl and cassette, and later reissued on CD, the Esperanto version was only available on cassette - but in two different editions: Team en Esperanto, by Opus, and Ora Team', by LF-koop. The Opus edition used artwork based on the Slovak edition's cover, and was released in record stores throughout Czechoslovakia: it was aimed at Team's local fans, mainly as a curiosity, although it was also available internationally from the UEA Libroservo. The green colour of this cassette's labels was not a reference to Esperanto - it was simply coincidentally the colour of Opus's labels, and the same colour was used on the Slovak-language release. The LF-koop edition used an alternate cover image (a photo of a Team concert) and was aimed at the international Esperanto community. Contemporary sources consistently state that the LF-koop release had better sound quality, although a review by Flo Martorell noted that the Opus release was visually more appealing: "ĝi multe pli rokaspektas".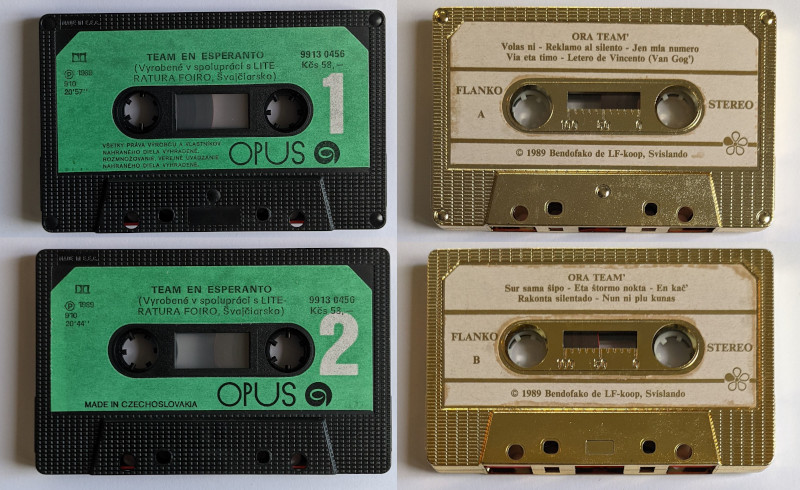 The Slovak album was a commercial and critical hit, and the Esperanto versions were equally well-received. The group won the prestigious Zlatý Slavík ("Golden Nightingale") music award for three consecutive years from 1989, and were joined by Habera winning the solo male category in 1991. In 2007, the newspaper Nový Čas organised a jury of 25 music professionals to nominate the 100 Greatest Slovak Albums of All Time; Team's debut placed at number 12.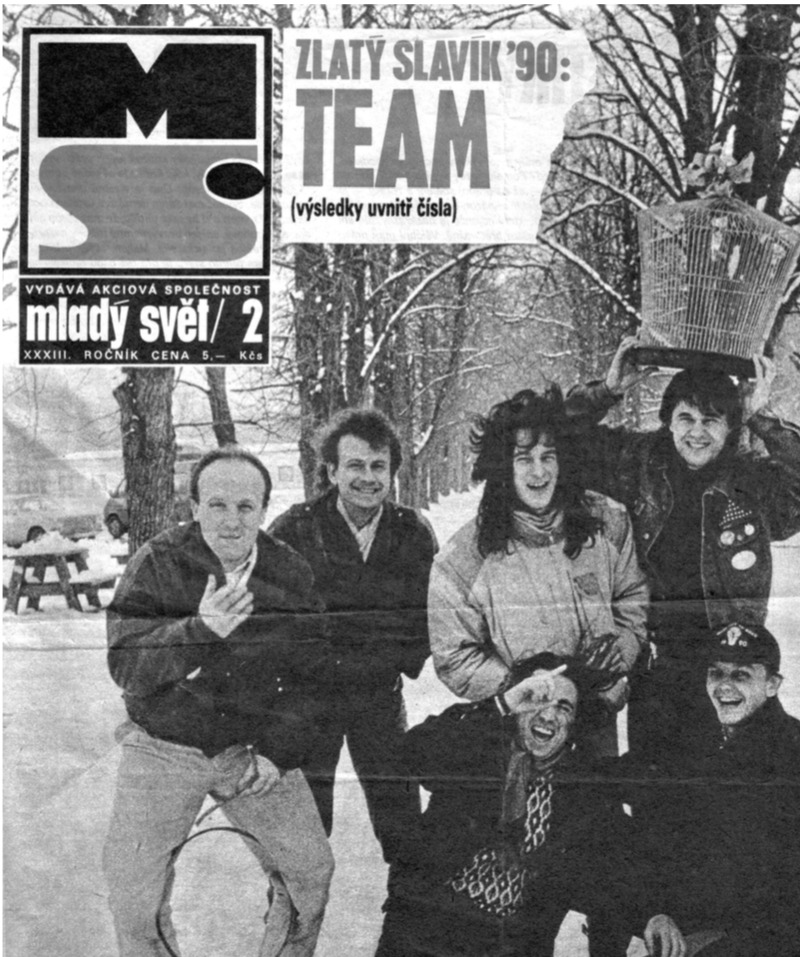 To promote the Esperanto release, Stano Marček organised a small tour of Esperanto events for the band: the Universala Kongreso in Brighton, IJK in Kerkrade, and the SAT-kongreso in Illertisen. As part of the Brighton event, the band was interviewed on BBC Radio Sussex - in Esperanto, interpreted by Heather Eason and Geoffrey Greatrex.
In 1990, Team, alongside the singer Dalibor Janda, represented Czechoslovakia in a performance at the Sanremo Music Festival. Stano Marček recalls how the group's guitarist, Dušan Antalík, was walking ahead of him carrying two guitars, when suddenly a policeman ran up to him and offered to carry the guitars. Embarrassed, Antalík handed him the instruments and then turned to Marček, making a rude comment about the policeman in Esperanto, which they often used as a secret language - perhaps not the wisest decision in Italy, as his words were similar enough to Italian that the policeman understood that he was being insulted. He dropped the guitars and rushed at Antalík, and his colleagues had to pull him away.
Initially, Team intended to continue working in Esperanto and to release an Esperanto version of their second album. Several of the album's songs were translated, but the Esperanto vocals were never recorded. It seems that the band had become disillusioned by Esperanto: for one, their new superstar frontman Pavol Habera hadn't had the same experiences as the rest of the band with the Esperanto course, and although he was able to give interviews in the language by learning the responses by heart, he was never truly able to speak it. As well as this, the sales figures for the Esperanto album simply couldn't match the same scale as the Slovak releases: while the latter were selling in the hundreds of thousands, the contract with LF-koop was for a mere 500 copies of Ora Team', and UEA reported total sales of 128 copies of Team en Esperanto up until the year 2000. While these figures are by no means atypical for Esperanto music, they are still several orders of magnitude smaller than the number of copies sold of Team's Slovak-language releases.
Team would never again perform in Esperanto. Their proposal for a concert at the 1992 Universala Kongreso in Vienna was turned down, in spite of the congress being held only an hour's journey away from the band's base in Bratislava. In an article in 2002, Stano Marček noted that Esperanto conferences simply don't have the budgets to pay professional musicians even close to what they would expect for their normal performances, and in many cases can't even offer to pay expenses.
In 1996, the Vinilkosmo-Kompil' Vol 2 included one further song by Team, although credited only to the singer Milan Dočekal: Kapon Redonu. This was produced using a similar technique to the original album: Dočekal recorded an Esperanto vocal track, which was mixed with the original instrumental tracks of the Slovak version (entitled Vrát' Mi Hlavu). Finally, in 2007, Dočekal released a further CD, Milan Dočekal el la grupo TEAM' kantas (ne nur) en Esperanto, consisting of Sur la Sama Ŝipo from the original album, a new performance of En Kaĉ', the aforementioned Kapon Redonu, and three songs in Slovak.
Discography
As Team:

Nine other studio albums, one live album and nine compliation albums, all in Slovak

As Milan Dočekal:
Sources and Further Reading
esper-inform post by Stano Marček (no longer available online except in this translation by Chuck Smith)
Literatura Foiro, issue 116, December 1988, pp 26-7
Esperanto (revuo de UEA), May 1989 - cover story with photograph
Acknowledgements
Thank you to Stano Marček for providing access to lots of archive material about Team, including several of the photos used in this article.
---
Comments
Comments are welcome in any language, especially Esperanto.
Komentoj estas bonvenoj en ĉiuj lingvoj, aparte en Esperanto.
comments powered by

Disqus